Bio
Nina Magness (nee Schroder) was born September 8, 1936 in Riga, Latvia to a German Father and Russian Mother. As a child she was exposed to numerous and diverse languages, music, cultures and peoples. Her tumultuous childhood and refugee status in war-ravaged Poland and Eastern Europe instilled a strong will to live and to create her own educational and professional path for success. Ultimately at the end of World War II, her family ended up in Berlin staring Russian tanks in the face — hanging white table cloths out the multi-story apartment. Fortunately, Nina ended up in the American Sector of West Berlin and survived on American Care Packages.
EDUCATION
A lover of classical music, art and design, Nina received formal training at the prestigious Meisterschule für das Kunsthandwerk Berlin "MfdK" (as called until 1964, and later merged into Universität der Künste Berlin "UdK" or the Berlin University of the Arts) founded in 1861 and directed by German Expressionist Painter Karl Schmidt-Rotluff from 1945 until 1952. Potter Jan Bontjes Van Beek was the director while Nina attended from 1955 to 1958. She studied in the Textile Design Department for 3 ½ years under the direction of Professor Elenita von Feistmantel. Her coursework included Nature Drawings under Herr Reise, Textile and Design and Color — Frau von Feistmantel, Textile Chemistry and Printmaking — Herr Spaniel, Animal Drawing at Berlin Zoo — Fritz Friedel and Art History — Dr. Dargel.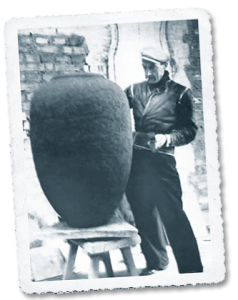 While a student, Nina sold her designs for curtains, lampshades, wallpaper and outdoor materials. Nina's Advisor and Mentor Professor Elenita von Feistmantal was trained at and associated with the Bauhaus (Klee and Kandinsky) and later taught with Jan Bontjes Van Beek at the Kunsthochschule Berlin-Weißensee before Van Beek brought her over to teach at MdfK. At MdfK – Berlin, Dr. Felix Dargel took students, including Nina to see the famous Picasso Exhibit of 1955, Picasso 1900 – 1955, shown only in Hamburg, Munich and Paris and to the renowned exhibit of Marc Chagall in Munich 1958. These two modern artists made a powerful impression on Nina which continues to manifest itself in her artwork today. Her first painting, a Swedish Landscape, was sold in Sweden in 1956.
PROFESSIONAL CAREER
Frau Feistmantel was instrumental in preparing and helping the young female art student to succeed in being placed in the recovering German Industry. Prior to graduation, Nina was honored to be offered a permanent position as a textile designer at the screen printing company Zimmer & Rhode in Oberursel, Taunus, West Germany. Her first designs were sold to PAUSA AG Textile Firm in Stuttgart (a commercial production site of Bauhaus art both before and after WWII) and Zimmer & Rhode in Frankfurt (celebrated 111 years in business in 2010.) These companies successfully printed and sold Nina's designs on drapes.
At Zimmer & Rhode, Design Studio Department Head Edgar Kasemeier created a fun collegial working environment for all his employees and encouraged them to meet and invest in the emerging artists whose designs the company was printing. Specifically, he knew of Nina's love of Picasso and Chagall. Herr Kasemeier gave original photos to Nina that he personally took when he met in the homes of both Chagall in Vence in 1958 and of Picasso in 1958 (with granddaughter Paloma and grandson Claude). She subsequently, on Kasemeier's advice acquired works of theirs.
German Artist Gyorgy Stefula was another of several artists Nina met through Kasemeier and Herr Zimmer. She also acquired several of his works. In fact, Stefula sent a personal handwritten note through Kasemeier when the studio colleagues purchased two works from him as wedding gifts for Nina and Walter.
MOVING TO THE US
In October 1960, her professional career was put on hold indefinitely by marriage to a United States Air Force Officer who loved Opera, their subsequent move to the United States, and then the birth of two children with full dedication to motherhood and family.
In 1966 Nina attended Art Class at Southern Methodist University ("SMU") in Dallas under Mr. Bradley. While in Dallas, she painted several works and met and associated with Sculptor Wilbert Verhelst (Professor of Art at SMU), Ralph Kahn (Contemporary Gallery owner in the Quadrangle) and Don Vogel (painter and owner of Valley House Gallery). In 1967, Nina visited Puerto Vallarta and Guadalajara, Mexico for summer vacation. Her keen eye, training and love of art led her to purchase several works of art of Manuel Lepe Macedo. One of the paintings she purchased was unsigned at the time but she kept the receipt and years later, after Lepe became world renowned and visited Texas, he signed the original painting as well as a new dedication to Nina and her husband Walter for their early patronage. She also acquired a work in Tlaquepaque by Gustavo Martinez — Mexican cubist painter with strong influences of Picasso and Diego Rivera.
Nina's love of people, art and music enlightened, sustained and encouraged her throughout her whole life. After being stationed in Germany from 1969 to 1974, the family returned to Abilene, Texas where Nina joined the Abilene Creative Arts Club and was inspired to start painting again. She completed various workshops with local artists Esme Glenn, Boyd Graham, Chet Kwiecinsky, Paul Friske, Linda Murray, Evelyn Niblo, Professor Robert Miller — McMurry University, Sherwood Suter — McMurry University, Dr. Brent Green — Abilene Christian University and Linda Fawcett — Hardin Simmons University. She occasionally joined the "Dirty Draw-ers" Group — figure drawing with live models at the Center for Contemporary Arts, exhibited with the Creative Arts Club at various events in Abilene, and received various prizes and recognition in surrounding communities in West Texas.
GIVING BACK
In 2013, after a long absence from painting and her professional career and at age 77, Nina decided to share her life, talent and creativity globally through her paintings. Her training in functionality, design and color is made apparent in her artwork. She relies heavily on the objects, sights and sounds prevalent in her immediate surroundings and nature, specifically, as the subject matter of her expression. Various mixed-media, risks incorporating unique textures, and iterations of well thought out innovative progressions of natural design combined with bold colors and bold strokes epitomize Nina's paintings.
Nina is thankful to all her teachers, mentors and associates who contributed to her development as an artist and designer. She now honors them, their life's work and dedication to art through painting and showing her works internationally.